'I had to help him:' Video of East New York teen helping elderly neighbor goes viral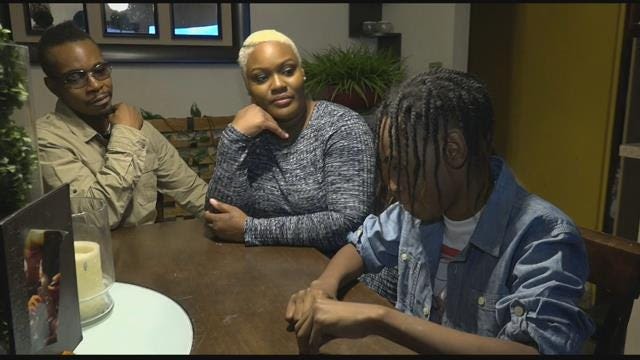 One Brooklyn boy just thought he was being a friendly neighbor, but 4 million people have now viewed a heartwarming moment captured on camera.
It all happened between an East New York middle schooler and his elderly neighbor.
It was a rainy day in November when Jordan Glover noticed his 75-year-old neighbor, who he calls Mr. Robinson.
"He was like getting all wet, so I threw my mom's jacket on, threw my mom's shoes on, got an umbrella and ran downstairs," says Glover.
His mom cooking in the kitchen says she was startled at first.
"I hear my son flying down the steps and I'm like, 'what is going on?'" says Liz Ingram, Glover's mom.
She grabbed her phone and peeked outside. Then started recording a video of her 13-year-old son helping his senior neighbor.
After it was posted on Facebook, it got a lot of attention.
"I was shocked because at first I didn't know my mom was recording me, but then she showed me it had like a million views, then 2 million, 3 million, 4 million now," says Glover.
To Glover it was just the right thing to do.
"He used to help me a lot. Sometimes with my homework and I saw him outside, I had to help him," says Glover.
Normally his mom wouldn't like him running out of the house, but for this she says she made an exception.
"I know that he knows it was the right thing to do. So, I always tell him you don't need permission to be kind," says Ingram.
Mr. Robinson was camera shy, but says he appreciates Jordan's help and thanked his parents for teaching him kindness.
Glover was unaware Thursday of the surprise waiting for him at Patrol Borough Brooklyn North when he was picked up from JHS 218.
Officers there presented him with a Playstation 4, something he had on his Christmas list, unbeknownst to those at the police station.
He also spoke one on one with Assistant Chief Jeffrey Maddrey about different topics, including his good deed.
"You haven't lived your life successfully today until you've helped someone who can never repay you. That's what I tell young cops, and that's what I'm telling you," he said to Glover.